A Modern Investment: Footballers and the Rising Appeal of Non-Fungible Tokens and Cryptocurrency
---
Introduction
          The chances are you may have heard or seen the acronym 'NFT' in some capacity and almost certainly it has been impossible to avoid the term 'Cryptocurrency'. For many, these can be daunting and futuristic sectors whilst for others, they have created a new obsession and fascination and have become a part of their lives. One area that these concepts have integrated into is the World of Football and soccer.
The theme is mirrored within football too; some players have so far avoided becoming involved in such an area as they view it as a riskful, unknown entity. For others, especially those in the fortunate position of financial comfort, these sectors present an exciting modern opportunity away from the football pitch.
          In this blog, I will endeavour to help you as the reader to comprehend not just what NFTs and Cryptocurrency are but also, more specifically, I will explain their applicability to and place within football. I will include a case study of how a footballer can benefit from these areas as well as considering the risks involved, as is the case to some extent with any investment.
What are NFTs?

          To simplify the idea, imagine buying a piece of art. However, this art happens to only be available digitally. On a purpose-built network you are able to purchase and sell the 'data' that makes up this piece of art. There is only one very specific data coding that creates this officially authenticated version of the art. Therefore, you will be the sole owner of this piece of art and any copies that are made of it will not be the 'official' version. This can be an investment as this piece of digital art may rise in value and can be sold on for profit to interested buyers. Another way to think about this concept is to imagine they are similar to football trading cards that you may have collected before, with the caveat that only one person can have each card in the world and that the card is digital.
The graph below demonstrates the rise of NFTs since the beginning of 2021 to give you an idea of why it has suddenly become such a major discussion point:
What About Cryptocurrency?
Cryptocurrency is a slightly older concept than NFTs. You have most likely heard people, news platforms or social media discussing the likes of Bitcoin, the infamous Dogecoin, and Ethereum, amongst others, since the beginning of the last decade. Crypto, as it is often referred to, comes under many titles or 'coins' as digital currency which can be bought and sold. Just like any currency around the world, the different crypto 'coins' can rise and fall in value. The medium of exchange for cryptocurrency is only through a digital network where all transactions pass through rather than via a bank or other institution.
NFTs and Crypto in Football
I have decided to cover both of these concepts within this single blog as they are both interlinked. Often, NFTs are purchased using Cryptocurrency such as Ethereum. Footballers, particularly those at the top, are in a position financially and socially to get ahead in these markets. These sectors present a new and exciting opportunity for investing their money into.
For NFTs, players can leverage their public following and fanbase to increase the value of their digital art and produce a successful investment, made financially possible from their high salaries at the top level. NFTs can certainly be a significant financial opportunity as some can be worth enormous amounts. Players may pay hundreds-of-thousands of pounds, dollars or euros to secure a piece of digital art, in the hope that it will rise in value.
The most common area of NTFs that players engage with is known as 'Bored Ape Yacht Club' and you may have seen this in the form of well-known players changing their social media icons to a cartoon ape. These include current and retired footballers such as Bobby Zamora, Tammy Abrahm, Reece James, Ashley Cole, Trent Alexander-Arnold and John Terry. The BAYC, as it is abbreviated to, uses Ethereum and charges a minimum of £163,000 for one of its specific 'bored ape' icons.
The record sale for a football player is Mesut Ozil who sold a single piece for £75,000. Elsewhere, an Mbappe GIF is believed to have sold for £47,000. Paul Pogba has purchased 'NFT eggs' and has partnered with the Cryptodragons Project as an official ambassador. This is a rising theme in football as the likes of Antoine Griezmann, Gerard Pique and Rio Ferdinand have also invested into various platforms that deal with NFTs or Cryptocurrency. It presents another off-field opportunity during and post-career to partner and collaborate with a modern and unique commercial endorsement.
          It isn't just players either; clubs are also engaging with these sectors. Seventeen Premier League clubs currently have commercial deals with a Cryptocurrency company and so do Paris Saint Germain and UEFA – a true sign that this digital phenomenon is firmly embedded into football. Even clubs like Southampton and Championship team Watford, sport Cryptocurrency platforms as their front-of-shirt sponsor. Another argument in favour of these concepts is that they are a new space to engage with fans around the world through a new and exciting medium.
          The table below shows just how valuable some of these deals can be for football associations and clubs in 2022:

Case Study: Mesut Özil
My client, Mesut Özil, has been a successful pioneer in these sectors for football. As well as holding the record sale for a player, he was also the very first individual across any sport to create NFT 'genies', an idea that was only otherwise previously emulated by Justin Bieber and Cardi B. These avatars were similar to the concept of 'bitmojis' and had its own digital custom clothing range. This generated enormous interest and goes to show the influence and impact that top-level football players collaborating with digital platforms such as NFTs and Cryptocurrency can have globally. The range sold out in 6.7 minutes and generated over $500,000, demonstrating Özil's global reach and fanbase. To acknowledge this extraordinary achievement he wore the number 67 after his move to Fenerbahce.
Özil also formulated the idea of selling 1% of his ownership stake in Mexican football club, Club Necaxa, to the public and the fans through digital NFTs. An exciting opportunity for fan engagement which was unfortunately blocked by the Mexican Football Federation although it is possible that this may be an indication as to the direction in which football is going alongside NFTs and Cryptocurrency.
The Risks Involved
This section differs little from any that may be written about investments of any kind. Particularly in Cryptocurrency and NFTs, the market is highly volatile. These are modern concepts that are still unknown entities to an extent. Furthermore, the regulations and laws governing the markets are not fully formed nor comprehensive. This means that there are many aspects of these sectors that create risks for those investing within it. Players may be in the fortunate position of financial stability and can afford to take such a risk but they must be aware of this before investing.
Another risk that players and their agents ought to be aware of is rogue coin-creators who pitch an idea to a player and try to take advantage of their popularity in the public eye. These creators will make some quick money from the players building hype as ambassadors before exiting with their own profit, leaving the player behind. This is sometimes referred to as the "pump and dump" concept, using false and misleading information and using a players face to inflate the value of their coin and creating what is known as a 'buying frenzy' before selling their own shares. The most infamous sports example of this involved Floyd Mayweather allegedly being a part of a pump and dump scheme with the EthereumMax coin. These scams must be avoided if possible and due diligence and research is imperative in order to mitigate against the risk of entering such deals.
          There is a similar risk with smaller clubs who relied upon cryptocurrency and coins as an important stream of income, particularly over the last couple of years and during COVID. Many cryptocurrency companies failed to compensate these clubs as they were obliged to and no money was received. This caused a significant and unexpected void in the predicted sponsorship finances for these clubs. As this industry is unregulated it does mean that instances such as this are a risk for those in sport and in football that engage with this sector.
          The Cryptocurrency market alone has experienced a 500% growth during the years of COVID-19 and this is likely to continue to rise. Whilst this presents a significant financial opportunity and the possibility of dramatic investment returns, it also raises the level of risk of the loss of money. After all, this is a modern form of speculative trading and profit is never guaranteed. The graph below shows the extraordinary rise and also the possibility of loss of cryptocurrency since 2015: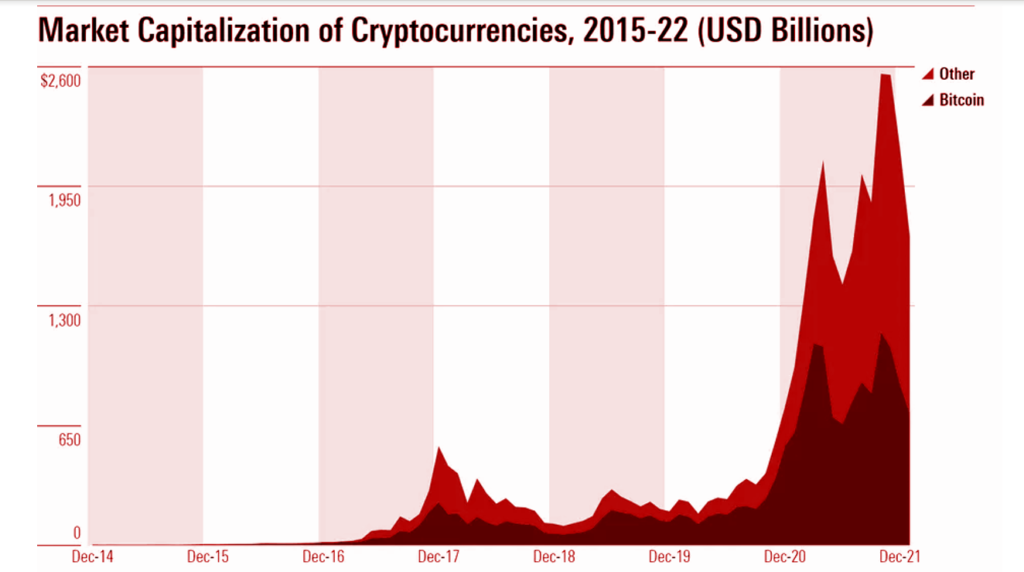 Summary
In this modern era of football, Cryptocurrency and NFTs are certainly something one should be aware of, and not just in the football sector. They may be slightly alien concepts still but their continuing rise in society is unavoidable and hopefully this blog provides some understanding as to their place within football. Players and clubs will engage more and more with these sectors and the extent to which they will become an integral part of the world of football is still unpredictable. Watch this space!